December 27, 2019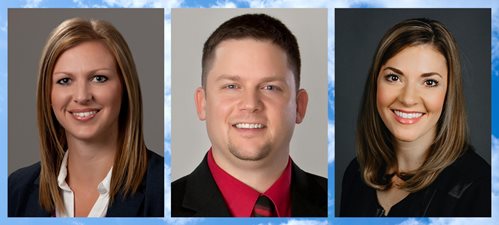 Starion Bank recently promoted members of its credit and finance teams.
LaDawn Schmitt has been promoted to chief credit officer (CCO). As CCO, Schmitt will join the bank's Executive Committee, which is responsible for initiating key actions within the organization, reviewing financial data and setting major project priorities. Schmitt began her career with Starion in 2006 as a business banking representative. In the past 13 years, she has served in roles within credit analysis and loan review, and as business banking officer. In mid-2018, she was named assistant chief credit officer/SVP. Schmitt holds a Bachelor of Arts degree in business administration from Minnesota State University Moorhead.
Rick Geloff has been promoted to controller. Geloff first joined Starion in 2013 as a credit analyst. He has also served in the roles of business banking officer and special assets officer, prior to being promoted to financial reporting manager/VP in May 2018. Geloff is a certified public accountant and a member of the Bismarck School Board, currently serving as its president. He earned bachelor's degrees in general studies and business management from Minot State University.
Rachael Erickson has been promoted to credit manager/VP. Erickson joined Starion 10 years ago as customer service representative/receptionist in Mandan and moved to Bismarck when she was promoted to personal banking officer. Since 2012, she has been in the Credit Department serving as credit administrative assistant, credit analyst and most recently credit lead. Erickson earned a bachelor's degree in business administration and management from Dickinson State University.