February 22, 2019
Starion Bank has made a $20,000 donation to five different communities in North Dakota.

The gift will be split among the following community funds:
$5,000 to the Oakes Area Community Foundation
$5,000 to the Ellendale Area Community Foundation
$5,000 to the Rolla Community Endowment Fund
$5,000 to the Bottineau Community Endowment Fund, benefitting both Bottineau and Dunseith
These local community funds are managed as permanent component endowment funds of the North Dakota Community Foundation. Earnings from the funds are given as grants every year for projects and programs that improve the quality of life in the local area.

"We are pleased to provide permanent gifts to these communities," said Craig Larson, CEO and chairman of the board for Starion Bank. "Throughout Starion's 50-year history, giving back to the community has been an important part of who we are as a community bank and this is one way to make a lasting impact."

For more information about these funds, go to www.NDCF.net.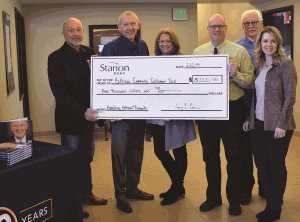 Bottineau check presentation L to R:
Scott Larson, Starion Bank; Craig Larson, Starion Bank CEO and chairman of the board; Whitney Gonitzke, Bottineau Community Endowment Fund; Chuck Neubauer, Starion Bank market president for Dunseith-Rolla-Bottineau; Donovan Bertsch, Starion Bank board of directors; Shelley Larson, Starion Bank board of directors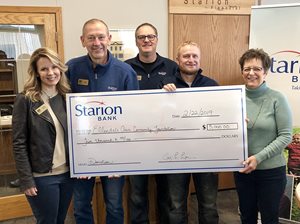 Ellendale check presentation L to R:
Shelley Larson, Starion Bank board of directors; Craig Larson, Starion Bank CEO and chairman of the board; Cody Musland, Starion Bank business banking officer, VP; Aaron Tschosik, Starion Bank Ellendale market president and Ellendale Community Foundation; Monica Mertz, Ellendale Community Foundation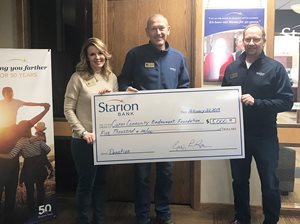 Oakes check presentation L to R:
Shelley Larson, Starion Bank board of directors; Craig Larson, Starion Bank CEO and chairman of the board; John Zetocha, Starion Bank Oakes market president and Oakes Community Foundation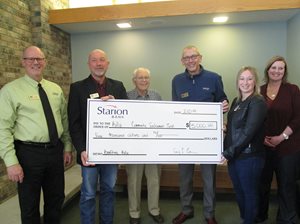 Rolla check presentation L to R:
Chuck Neubauer, Starion Bank market president for Dunseith-Rolla-Bottineau; Scott Larson, Starion Bank; Jim Langseth, Rolla Community Endowment Fund; Craig Larson, Starion Bank CEO and chairman of the board; Hovi Mitchell, Rolla Community Endowment Fund; Barbara Mothershead, Starion Bank business banking officer and Rolla Community Endowment Fund