June 19, 2020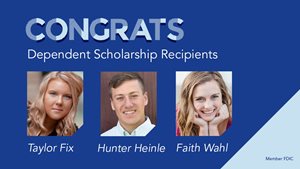 Starion is committed to providing opportunities for our employees, as well as our employees' families. One way we are able to do this is through our Dependent Scholarship Program. The scholarship program is open to all children of Starion employees who have been employed for one year and who will be graduating high school this year or are current college freshman-juniors, and will be attending college for the 2020-21 academic year. Starion has chosen Faith Wahl, Hunter Heinle, and Taylor Fix, all who are from Mandan, as this year's winners of the $500 scholarship.
Faith Wahl is the daughter of Heidi Wahl-McDonald in Mandan. She will be attending the University of North Dakota this year and is pursuing a nursing degree. Faith has been active in sports, Kappa Delta sorority, and North Dakota Student Association – serving in leadership roles such as Panhellenic Delegate, treasurer and Vice President of Communications. In addition, she has been active with Hugh O'Brian Youth Leadership, Girl Scouts and the North Dakota Student Association.
Hunter Heinle is the son of Heather Heinle in Mandan. He will be attending the University of North Dakota and intends to study physical therapy. Hunter has been active in Student Athlete Leadership where he was one of the founding members. He is also a member of the National Honor Society and swim team serving as captain. In addition, he has been active in his church volunteering at multiple events and going on numerous mission trips. He has also spent time working with the Special Olympics, coaching football camps and participating in multiple Starion related events.
Taylor Fix is the daughter of Charity Fix in Mandan. She will be attending the University of Minnesota and intends to study chemistry, pre-med, and Spanish. Taylor has been active in volleyball, Health Occupation Students of America (HOSA), Spanish Club, National Honor Society, and National Future Physicians of America. She has served in leadership roles such as Vice President. She has also been active in her church as a Sunday school teacher, a Special Olympics Volleyball Coach, Rebuilding Together, and Heaven Helpers Soup Kitchen.
For more than 20 years, Starion Bank has awarded scholarships to support local students in their pursuit of higher education. As a learning organization, it is our desire to help our employees and their families increase their knowledge through education.