Building your dream home? From lot to mortgage, we can help.
---
New Lot Loan Special
Get the dream lot you want at the rate you need right now.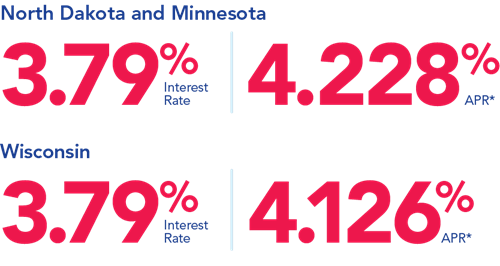 We offer:
Personalized service, local lenders
Seamless financing process
No origination fee
Ready to apply for a lot loan?
Call
,
email
or
stop in
today!
*The fixed annual percentage rates are available for new lot purchases (consumer purpose only) in North Dakota, Minnesota and Wisconsin based on a 1-year, interest-only term. Must apply by December 31, 2021. 5% minimum down payment required. Maximum 12-month term with interest-only payments. Additional terms available. Consult with a mortgage banker for additional options. Subject to credit approval. Repayment example for all three states listed above: A $100,000 loan with a 12-month term results in 11 monthly interest-only payments of approximately $321.89 and a balloon payment of $100,311.51. Payments don't include taxes or insurance, and actual obligations will be greater. Ask a mortgage banker about qualifications and limitations.
NMLS #419261
---
Construction Loans
You know exactly what features you want in your new home. And you have a contractor ready to execute the plan. Now all you need is financing to get you through the building process. At Starion Bank, we offer affordable construction loans to cover everything from the first piece of lumber to the last shingle.
Just as important, we offer a streamlined process that makes funds available as you need them, helping to ensure that your home is finished on time and within budget.
Short-term loan that covers building materials and labor
Affordable rates and low closing costs
Down payment as low as 5%
Access to loan professionals who can help you navigate all phases of the building process
Easy transition to permanent mortgage. We'll waive the origination fee for the permanent financing if you've financed the construction loan with us.
How to Qualify
Construction loans are quite a bit different than a standard mortgage. That's why it's important to work with an experienced mortgage lender like Starion Bank. In general, you will qualify for a construction loan if you have good credit and meet these requirements:
Have a qualified builder: A qualified builder is a licensed general contractor with an established reputation for building quality homes.
Detailed specifications: This includes floor plans, as well as details about the materials that are going to be used. Builders often put together a comprehensive list of all details (sometimes called the "blue book"). This generally include everything from ceiling heights to the type of insulation being used.
The home value estimated by an appraiser: It might seem difficult to appraise something that doesn't exist yet, but an appraiser evaluates the specs of the house, as well as the value of the building site. All these are then compared to other similar houses with similar locations, features and size. These other houses are called "comps," and an appraised value is determined based on the comps.
A down payment: You may be able to put down as little as 5% depending on your credit score and home value.
---
Bridge Loans
If you're buying or building a new home, a bridge loan provides short-term financing that lets you complete the purchase and closing process before you sell your current home.
Starion Bank is a full-service financial institution with branches in North Dakota and Wisconsin.