October 17, 2018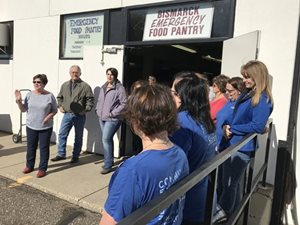 October 16 is World Food Day which was perfect timing for delivering items from the fifth annual "Banking for the Food Bank." A total of 62,057 items were collected, exceeding last year's collection by nearly 17,000 items.
Eight banks participated in the project: BNC National Bank, Choice Financial, Dakota Community Bank and Trust, First International Bank and Trust, First Western Bank and Trust, Gate City Bank, Security First Bank and Starion Bank.
The banks collected donations from Oct. 1-15. When they arrived today for delivery, each bank turned in a sealed envelope to Sandi Crimmins, co-chair for the food pantry. In the envelope was each bank's official count of how much they collected. After the food items were unloaded, Crimmins thanked participants who had gathered and announced the winner was First International Bank and Trust.
"This is always an incredible food drive," she said. "This is our biggest drive every year. We can't tell you how much this means to us and, more importantly, our clients."
"This is about the banks teaming up to help the community," says Heather Heinle, coordinator of the food drive and a Starion Bank employee. "In the five years we have been holding Banking for the Food Bank, we have collected more than 160,000 items! This is another example of how the Bismarck-Mandan community always steps up to help their neighbors in need."
The Bismarck Emergency Food Pantry, located at 725 Memorial Highway, receives no government support and has an all-volunteer staff. The pantry provides food to people in Burleigh and Morton counties and is currently giving out more than $11,000 in items each month.