May 26, 2021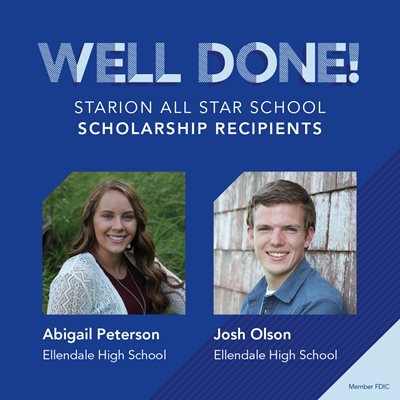 Starion Bank is proud to award two Ellendale High School graduates, Abigail Peterson and Josh Olson, with a $500 scholarship to support their endeavors pursuing a higher education. This scholarship was open to any student and the applicants were evaluated in a variety of areas including leadership, community involvement, and future career goals and plans. Of our many applicants, both Peterson and Olson displayed a great level of excellence and promise in all of these areas.

For all four years of her high school career, Abigail Peterson has shown outstanding academic excellence by being named a member of the National Honors Society. She has been heavily involved in numerous extracurricular activities ranging from FFA, and Student Council to sports such as Volleyball, Basketball and Track. She believes that "giving back to our community is one of the most important things us as youth can do." Peterson is the daughter of Steven and Christine Peterson, and has graduated from Ellendale High School with plans of pursuing a degree in Family and Consumer Sciences at North Dakota State University in Fargo, ND.

Joshua Olson has lived out the belief that "communities are the backbone of our society that help to keep the world in working order." He has been involved in a variety of different extracurricular and community service activities and was a National Merit Scholarship finalist and was on the North Dakota Academic All-State Gold Team. Olson is the son of Paul and Deanne Olson, and has graduated from Ellendale High School with plans of pursuing a degree in Biochemistry at North Dakota State University.

For more than 20 years, Starion Bank has awarded scholarships to support local students in support of higher education.