August 6, 2018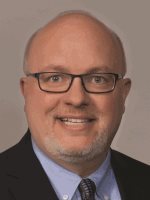 Steve Heydt, retail banking, vice president, at Starion Bank in Bismarck recently graduated from the Graduate School of Banking at Colorado (GSBC).
GSBC is America's premier community banking school. This 25-month program provides management and leadership training for community banking professionals. Students complete training that focuses on the areas of general management, technology, lending, leadership, human resource management and financial management in banks. Requirements for graduation include comprehensive examinations, research projects and participation in a bank management simulation course.
Heydt joined Starion Bank in 2004 as a retail manager for Bismarck-Mandan. Over the past 14 years, he has held several leadership roles within the bank. In his current position, he also serves as a member of the bank's Management Committee. Heydt is active in a variety of community organizations including the Bis-Man Transit Board, AID Inc. and the Salvation Army, and is a member of the Mandan Public School District Facilities and Finance Committee. He is also a graduate of the Leadership Bismarck-Mandan program and the Disney Institute.