If your home is worth more than you owe on it, its equity can secure you a loan for many needs, such as funding a home improvement project, appliance purchase, medical emergency and more.
A home equity loan or line of credit allows you to borrow against the value of your home, making it easier to qualify for than other types of loans.
To access your home equity, you have two options: a Home Equity Line of Credit (HELOC) or Home Equity Loan.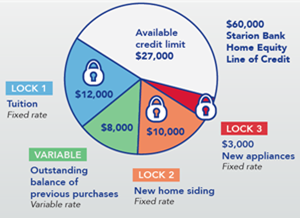 Home Equity Line of Credit – This works more like a credit card. You can borrow up to a certain amount and withdraw the money as you need it. As you pay it back, your credit revolves and you can use it again.
Home Equity Loan – This is a loan in which your home is used as collateral and we advance you the total loan amount upfront.
Another option is to take advantage of our FlexLine Rate Lock. This lets you lock part of your line into a fixed rate with a term and fixed payment schedule (see the chart on the left).
Whether you're looking to make improvements to add value to your home or pay for college, we can help. Learn more about Starion's loan options, or talk with a banker to get started.