Zelle® - The Banking Feature You Didn't Realize You've Been Missing
Have you ever accidentally discovered a feature on your phone? You know, you're taking a photo on your smartphone and suddenly realize you can adjust the exposure. Or you inadvertently held down an app for so long, that all your apps started wiggling and — voila! — you're reordering your iPhone homepage? Those "Woah, no way!" moments are great.
Technology is capable of so much nowadays. It can be hard to keep up with all of the changes and features. That's why we're here to make sure you are familiar with a great product you might be missing out on but are definitely going to love. It's called Zelle® and it's going to change how you send and receive money.
So what is Zelle?
Zelle is a fast and free way to send money to anyone right from within your mobile banking app. If you have a bank account, then chances are - you have Zelle too. Need to split the bill at dinner, pay your friend back for gas, or request a payment from a client, Zelle can help. Using Zelle with your Starion Bank account means you can send and receive money from... well... just about anyone. And the best part? Setting up Zelle with your Starion account is easy. Using it is easier still.
So how does it work?
Once you've opened your checking account, (if you haven't opened an account, you can open one in under 4 minutes!) you'll want to sign into Online Banking from a desktop browser and enroll in something we call Bill Pay. You can enroll by simply clicking "Bill Payment" from your Online Banking menu
Having trouble? Here's a video that walks you through the steps.
After enrolling, download the Starion Bank mobile app on your device and log in with the same credentials you use to log in to your Online Bank account.
Once logged into your account, you will see the option to Send money with Zelle.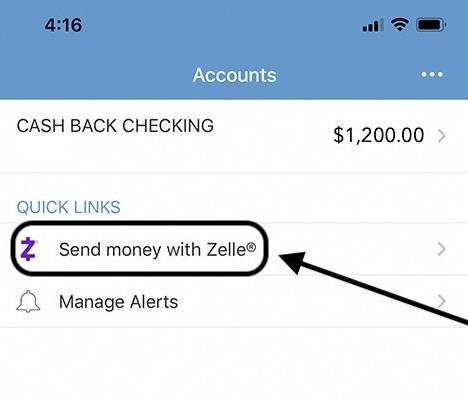 If this is your first time using Zelle, you'll need to go through a short enrollment to agree to Terms and Conditions, pick the bank account you'd like Zelle to use, and sign up to receive notifications from Zelle.
That's it! You're all set. You can now send and request money or split payments using nothing more than an email, phone number, or an existing contact on your mobile device. It takes just a few taps and it's all right from within your Starion Bank mobile app for free anytime you want.
Starion is continually looking for ways to help you spend less time banking and more time living. Feel free to reach out to our team with any questions at 1-888-258-6050 during normal banking hours, or chat with a member of our team on our website anytime.