We believe that being a good member of the community includes being cognizant of the effects we are having on the planet.
That's why Starion Bank has implemented a number of initiatives to save energy, water and money, including the installation of solar panels at several branches.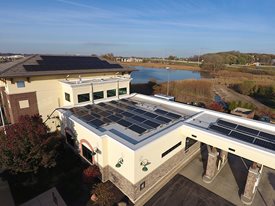 Solar arrays have been installed at our North Bismarck and Middleton locations with plans to add panels to three more locations in the near future. So far, we have been able to reduce our carbon footprint by 30 percent, and we're expecting these two branches to use half as much energy this year as they did last year.
Even during times when the buildings are not in use, such as on weekends and after hours, energy is still produced and all of it goes back into the grid. May through September are the highest producing months but the sun shines year-round so we still reap the benefits even in the winter. At current production levels, we anticipate earning back our investment in the panels in 10-12 years.
"Through the first nine months at our North Bismarck branch, our numbers indicate that we have reduced the amount of power we are purchasing to the site by 70 percent," said Craig Larson, Starion CEO.
Other Starion conservation efforts include native plantings, LED lighting, a living roof and more.