Crop insurance is an essential business tool in today's fluctuating agricultural economy.
It provides an important measure of stability for America's ag producers.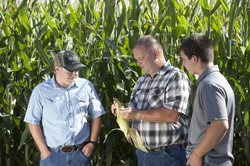 Starion Insurance is dedicated to providing American farmers access to affordable crop hail insurance and multi-peril insurance. Our agents have strong family farming backgrounds and understand the needs of ag producers. Local farmers appreciate that:
Starion Insurance offers two companies for multi-peril insurance and three companies for crop hail insurance, which allows us to meet your unique needs with competitive premiums.
Agents keep up-to-date with new and changing crop insurance developments.
Starion Bank allows producers to have all of their financial and insurance needs met in one convenient location.
We are here to help you get the insurance you need to protect your most valuable assets. With spring crop insurance dates nearing, now is the time to make sure you're covered. Contact us today or request a quote online to find out if you could benefit from a comprehensive review of your current coverage.