Get the information you need to get the most out of Online Banking.
You may verify your contact information by clicking the Profile button at the top right of the screen.
You should verify all your information is correct, especially your e-mail address. This will be used for account notifications or in case you need to reset your password.
Account nicknames make identifying your accounts at a glance simple. You may change the nickname on an account by clicking the Edit Account button on the home screen.In the boxes above the account number, type your nicknames.
Click Show if you want the account to show on the homepage.
Use the Move arrows to rearrange the order the accounts are listed.
Click Save.
What you list as your Account nicknames is how your accounts will be listed in Online Banking, as well as in your Mobile Banking app.
If an account has multiple owners, the nickname can be changed by any owner. The most recent nickname added will be seen by all owners. Be aware of how changing account nicknames may affect what you or your joint owners see in Online Banking.
No. You should create separate usernames. As joint owners, you'll both be able to view shared accounts. Joint owners can enroll online as new users by clicking the Enroll Now button at
starionbank.com
by completing the steps, including creating their own username and password.
If you have any problems logging in or enrolling as a new user, please contact Starion Bank.
After 100 days of not logging into Online or Mobile Banking, your Online Banking account will become inactive. You can still use Online Banking, you will just need to re-enroll for the service. You can use your same Username and password as you have before.
If you are an online bill pay customer, any scheduled or recurring bill payments will continue to process regardless if your Online Banking account is active. Also, if you've set up any alerts through Online Banking, those alerts will continue to be sent to you, regardless if your Online Banking account is active.
From starionbank.com, click Enroll Now in the Online Banking Login box. To view a video with step-by step instructions, visit: onlinebanktours.com
You will need to have your account number (checking, savings, loan or certificate) to complete the First Time Login form.
Proceed with filling in all of the information listed on the form, including the security question and answer. Your Security Question and Answer can be in any format and will be used to help identify you if you have questions on your Online Banking account.
Click on submit.
Create a new Access ID and password or you can use your previous Access ID and password.

New Access ID: Must be 8-17 characters long and is case sensitive.
New Password: Must be 8-17 characters with at least one letter and one number. We recommend using a combination of uppercase and lowercase letters, numbers and symbols.

Enter and confirm your e-mail address. This will be used for account notifications or in case you need to reset your password.
You will select three security challenge questions and answers that Online Banking will use to verify your identity any time you log in to Online Banking from a different computer.
Review and accept the Online Banking Agreement.
Online Banking displays deposit and loan accounts for which you are listed among the first three names. You will not see accounts for businesses that have a separate tax identification number. You will need to create a separate username to view these or contact a Relationship Officer to set up Business Online Banking.
Your current account balance in Online Banking will reflect today's transactions. Deposits and Express Transfer funds will be immediately available for use. If you have a scheduled transfer, that will not show in your account until the end of business day.
Check card transactions will appear immediately in Online Banking. First, they will be listed as a Pending Transaction and a withdrawal will be made from your account balance. The transaction amount may be adjusted to the actual purchase amount when the merchant formally processes its batch of credit card transactions.
Your balances, today's transactions will be displayed on home page.
You can view detailed account information and history, including recent transactions, by clicking the name of each deposit and loan account listed on the home page.
The Transactions section on your Account Information page will list checks that have cleared your account and their amounts. You may click the check number to view an image of the front and back of the check, which will show to whom the check was made payable. You also can view other checks that have cleared account in past months by using the Search transactions section on the Account Information page.
Your banking history will be viewable online as far back as January 2010. To view further banking history, contact the nearest Starion Bank location to order your statements on computer disk.
Click Advanced Transfer Options in the Express Transfer box or click Express Transfers. This option enables you to make an immediate transfer from one account to any number of your other accounts. To set up automatic, recurring transfers, remember to select "repeat" when entering the date.
If you have completed an same-day transfer, you cannot undo the transfer; however, you can transfer money back from a checking or savings account by completing another transfer from that account.
If you completed a repeating or future dated transfer, you can cancel or change it until the scheduled date. To delete:
Click on the Transfer tab
Scroll to the bottom of the page where you will see Scheduled Transfers
Click "edit" or "delete" on the application transfer
Your scheduled transfer section includes all scheduled transfers for each account. Transfers scheduled by the bank, including automatic transfers for loan payments, will also be listed.
Yes. Any Starion Bank deposit account or loan you open in the future will appear automatically in Online Banking, enabling you to immediately view and make transfers to and from these accounts.
If you are using a registered personal computer to access Online Banking, you will be able to use back, refresh and other browser buttons to navigate.
If you are using a public computer that you haven't registered, the system will automatically sign you out for using your browser's navigation buttons. You may use only the buttons within Online Banking to navigate on a nonregistered computer. (See the Security section for more information about registering your computer.)
This security feature prevents other people from navigating back through your bank accounts by using a browser window you may have forgotten to close on a public computer you used for Online Banking.
You may request that accounts be removed from viewing in Online Banking, however, this will prevent all joint owners from seeing these accounts as well.
If you would like to restrict the accounts you see in Mobile Banking, you can select the accounts you see by going under Profile and clicking on Manage Devices and the tab My Accounts and checking the accounts you would like to see.
If you have questions about accounts listed in your profile, please contact Starion Bank at 1.888.258.6050.
Other Products & Service Features
Easily enroll your personal account when you login to Online Banking and click Profile in Online Banking.Click Edit next to Electronic Statements.
Verify the email address.
Check the eStatements/eNotices box next to the accounts you want to enroll.
Click on the Electronic Statement terms and conditions link.
Review the disclosure and get your confirmation code on page 2 of the disclosure. Close the disclosure.
Check the box that you have read and accept the terms and conditions.
Type the confirmation code and click Save.
Click Save.
When you receive your monthly e-mail letting you know your statement or notice is ready, you'll be directed to login to Online Banking. To view your statement, select an account and click on the Documents tab.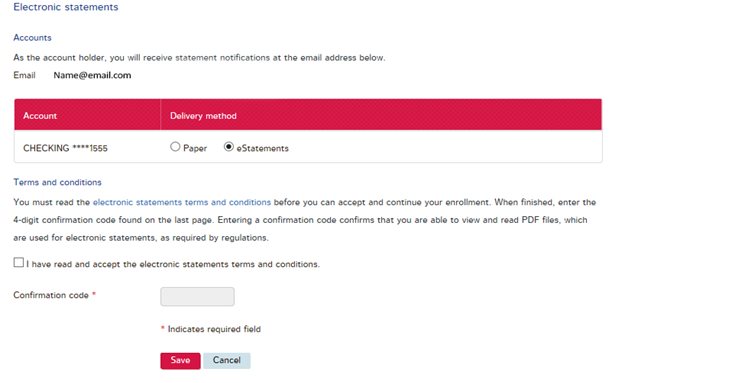 Download the Mobile app and clck Enroll Now or if you are already an Online Banking user, log into Online Banking and click on Profile. Scroll down to the Mobile Banking Profile section and click on Enroll Now. Follow the instructions to set up text banking, web browser banking or download our mobile apps on the iTunes store or Google Play store.
View a step-by-step video on how to enroll and use Mobile Banking.
Yes, Starion's mobile banking app is available for the following devices:
iPad
iPhone
Android phone
Nexus 7
Nexus 10
Galaxy Tab
Galaxy Note 10.1
Nook HD+
Acer A5xx
Yes, you can change which accounts you see in Mobile Banking. After you enroll, go to Profile within Online Banking and scroll to the Mobile Banking Profile section. Click on Manage Devices and then click on My Accounts. Select the accounts you want to see and click on Update Accounts. These will be the only accounts you will see in Mobile Banking.
Click on Bill Payment and follow the screen instructions to enroll in Bill Payment.
Yes. You have the option of ordering checks from Deluxe Corporation by clicking Order Checks in Online Banking. You also have the option of clicking Reorder Checks at starionbank.com.
If it is the first time you have ordered checks, you will be prompted to call the Customer Service Center at 888-258-6050.
Yes. You may export your transaction information from Online Banking to personal finance software, including QuickBooks®, Quicken®, Microsoft® Money or as comma separated files.
From the Accounts page of the account you want to export, click the Download button. Select the date range and format you would like to export. Click Download Transactions.
Yes. From the Accounts page of the account you would like to place a stop payment on, click the Stop Payments button.
Follow the directions on the screen to request your stop payment.
Online Banking is free for all Starion Bank personal banking customers and all account types.
Business users who would like to access both personal and business accounts, or have multiple logins should contact a Starion Bank Relationship Manager for further details.
Online Banking is fully secure. We use multiple layers of online security to protect customer information.
Please refer to the Security link at the bottom of Online Banking for more information or visit this link: onlinebanktours.com/
Your password must be 8-17 characters long with at least one letter and one number. We recommend using a combination of uppercase and lowercase letters, numbers and symbols (Type the password in case-sensitive lettering every time and be aware of Caps Lock).
Use a unique password only you would know.
Do not use a common word, your name or the name of a family member, your Social Security number, phone number or birth date.
If you feel you must write down your password, store it in an obscure place nowhere near your computer: in a recipe box, in the medicine cabinet, behind a picture frame. Do not label it as a password.
Do not allow your computer to memorize or save your Login ID, now called your Access ID, or password. Problems caused by saved passwords are a frequent cause of frustrating lockouts!
No. However, it is good practice for security reasons, and we recommend that you change your password periodically.
If our Online Banking doesn't recognize your computer or your mobile device, it will prompt you to answer a security challenge question. This could be prompted because of a computer system upgrade you completed or if you are traveling out of your recognized area with your mobile device and are trying to access Mobile Banking. This feature is for your account security and provides an added layer of protection to your accounts.
When selecting your security challenge questions and creating answers while enrolling in Online Banking, you are asked to select one of the following options:
This is a personal computer. Register it.
This is a public computer. Do not register it.
If you choose not to register your computer, you will be asked one of your challenge questions each time you log into Online Banking.
By registering your computer, you will no longer be asked a challenge question on that computer when logging into Online Banking. For your security, if your computer goes through an update or if a change is made to your computer that affects the authentication, you will be asked one of your challenge questions to verify your computer again. Only your username and password will be required to log in. You will also be able to use your web browser's back, refresh and other navigation buttons in Online Banking.
Any time you use a different computer or device that is not registered, you will be required to answer a challenge question and will not be able to use browser navigation buttons.
This security feature helps protect you from identity theft when using public computers for Online Banking. Do not register any computers that may be used by someone you don't know.
Online Banking will automatically time out after 15 minutes of inactivity, and you will be asked to sign back in. As long as you are actively using your account, you will remain signed in regardless of the time. This security feature prevents other people from accessing your account in case you leave your computer unattended and forget to log out.
Starion Bank is a full-service financial institution with branches in North Dakota and Wisconsin.