Take the first step toward achieving your goal.
---
Make your dreams a reality with an affordable loan from Starion Bank. We'll help you find the type of loan and term that fit your monthly budget. Best of all, loan decisions are made right in your community so you're assured of a quick answer and stress-free process.
Consumer Loans
We offer loans at competitive rates for many uses and special needs. Contact a banker for information on the best rates and terms for you.
---
Lines of Credit
Ready Credit

is a loan that kicks in when you make a transaction greater than the amount in your checking account. Use it for unexpected expenses or purchases. This product is available to credit-qualified customers who have a Starion Bank checking account.

A Premier Line of Credit of up to $25,000 is available to credit-qualified customers.
---
Home Equity Loans
Borrow against the equity in your home to take on home improvements, pay tuition or a wedding, and more. Our rates are competitive, and interest on home equity financing may be tax-deductible.1
A Home Equity Loan is a fixed amount of money that is repayable in equal payments over a fixed period of time. The interest rate does not change for the term of the loan. You may consider this type of loan when you're renovating your home and want a fixed amount for the project.
A Home Equity Line of Credit2 allows you to access money up to certain limit, much like a credit card. The interest rate is variable and you pay interest only on the amount you use. You may consider a HELOC for college tuition, new furniture or a family vacation.
Starion's FlexLine rate lock allows you to lock in part of our line into a fixed rate with a term and fixed payment schedule. You may take more than one lock on your line of credit. As you pay down your locks, that money becomes available to you in your credit line.​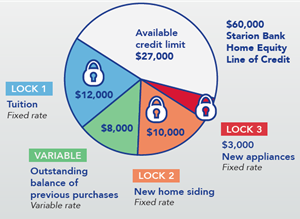 Starion Bank is a full-service financial institution with branches in North Dakota and Wisconsin.