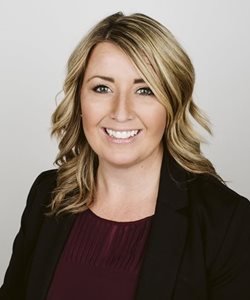 Mortgage Banking Supervisor
Bismarck - North
2900 North Washington, Bismarck
NMLS #: 955313
About Kassy:
Kassy began her career in banking with Starion Bank in 2005. Her areas of expertise in residential mortgage lending, which include conventional, NDHFA First Time Home Buyer programs, FHA, VA and jumbo financing, allow Kassy to help home buyers determine what financing best fits their needs.

Kassy earned a bachelor's degree from Dickinson State University and an associate degree from Bismarck State College. She currently serves as a member of City of Bismarck Special Assessments Task Force volunteer and Bismarck-Mandan Professional Women in Building, and as an affiliate member of both the Bismarck-Mandan HBA and Bismarck- Mandan Board of Realtors.

She previously served as a board member for Bismarck and Mandan Dollars for Scholars, is a former lead volunteer for the 2-285th Aviation Unit Family Readiness Group and was a member of the American Legion Women's Auxiliary.
Kassy was recognized by the Scotsman Guide as one of the Top Women Originators in 2020, 2021 and 2022, and recognized by Mortgage Executive Magazine as part of the Top 1% of Mortgage Originators for 2015, 2016, 2019, 2020, 2021, and 2022.
Whether you're buying or refinancing, Starion Bank always goes the extra mile to offer clear guidance.
Home Equity Loans can be used for college costs, big-ticket appliances, weddings, dream vacations, and more.

Buying or building a new home? Bridge loans provide short-term financing while you complete the the purchase.

Before you build your dream home, you need the perfect lot. Secure the space you need to start construction.

You know exactly what features you want in your new home, and the contractor is ready. Now all you need is financing.

Starion Bank is a full-service financial institution with branches in North Dakota and Wisconsin.