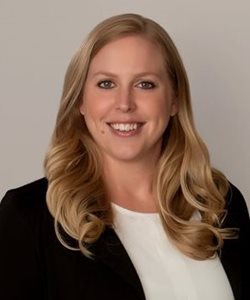 Mortgage Banking Officer
Bismarck - Downtown
333 North 4th Street, Bismarck
NMLS #: 1308533
About Brittany:
Brittany believes a mortgage is more than a transaction. It's about building a relationship with her customers, helping them achieve their home financing goals. She is excited to work with clients from the date of application all the way through the closing date and more. Brittany has a passion for people and enjoys finding the right financing program to meet their needs. With experience in title insurance and mortgage banking, clients will be well taken care of.

Brittany currently serves as 2022 Chairwoman for the HBA Parade of Homes, is a board member for Bismarck Dollars for Scholars, and is an affiliate member of Bismarck-Mandan HBA and Bismarck-Mandan Board of Realtors. She previous served as Co-Chair on the United Way Back for Kids Program in 2020 and 2021, and was an Affiliate of the Year nominee in 2020 and 2021 for Bismarck Mandan Board of Realtors.

Buying or building a new home? Bridge loans provide short-term financing while you complete the the purchase.

Home Equity Loans can be used for college costs, big-ticket appliances, weddings, dream vacations, and more.

Whether you're buying or refinancing, Starion Bank always goes the extra mile to offer clear guidance.
Before you build your dream home, you need the perfect lot. Secure the space you need to start construction.

You know exactly what features you want in your new home, and the contractor is ready. Now all you need is financing.

What Brittany's customers are saying...
Brittany went above and beyond the call of duty to help my family get out of a very difficult situation and into a much more manageable one. Without her we very well may have lost our home. We sincerely appreciate all that she done. Her and her team are fantastic!
Brittany was great to work with! She made sure to contact me throughout the process to ensure that my questions were answered. She is great!
Starion Bank is a full-service financial institution with branches in North Dakota and Wisconsin.