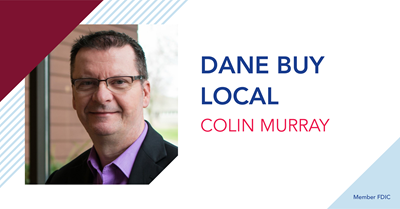 Q&A with Dane Buy Local's Colin Murray
In Madison, we love supporting local businesses. Spending money locally is a terrific way show support to our favorite eateries, breweries, and shops and doing so keeps our money in our local economy to boot. But with the pandemic currently raging throughout the Badger State, that has become significantly more difficult to do.
So many of our treasured local restaurants and small businesses have had to completely flip their operations upside down to let people continue dining or shopping, but as budgets tighten for so many in the area – a lot of businesses have found themselves without too many options.
Dane Buy Local, a Madison-area nonprofit that is passionate about local business, was working day and night to support local businesses, even before the pandemic struck and even more now as our local small businesses face these challenging times head on. From administering government grants to hosting gift card giveaways on social media, they have truly served as an advocate for the local businesses in our community every step of the way throughout this pandemic.
We recently had a chance to check in with Colin Murray, the Executive Director of Dane Buy Local. We talked about local business, the state of our local economy, and how the community can help support businesses through this trying time. We're excited to share what we've learned from Colin's 20+ years of business experience in the Madison area.
How do small businesses play into Dane County's larger economy?
If you were to combine all the small businesses in Dane County into one, they would be the largest employer in Dane County. That massive footprint is why small businesses have such a major effect on the economy. When they struggle, other aspects of the economy will too.
Has community support for local businesses increased since the start of the pandemic?
Pre-COVID, supporting local was a "nice idea" for most people, but maybe not a priority. After the start of the pandemic, people have started seriously considering where they're taking their business.
This is one of the silver linings that has come from the pandemic. People are more intentional about supporting local now than ever before. At the start of the pandemic, members of Dane Buy Local received countless emails and phone calls from patrons simply asking how things are going and letting us know that they plan to spend extra money locally just to show their support. This type of community support makes a world of difference for our local businesses.
What are some innovative actions local businesses are taking?
The businesses in Dane County are surviving (just barely in some cases, but surviving nonetheless) largely because they have adopted new and innovative ways of doing business. Almost all restaurants have adopted some sort of curbside pickup system, and some local restaurants have even purchased igloos for customers to eat inside of as the temperatures drop.
Dane Buy Local has seen some of these innovations go from temporary to permanent, too. For example, some sales people have seen their numbers go up since the start of the pandemic. Thanks to services like Zoom, there isn't a need to drive to meetings and they can now fit more sales calls into the day than they could before.
What are some positive data points we can look at during this difficult time?
The city, community, and local businesses have all come together to get through these tough times, and many positive things have come from everybody's effort. A notable example of this is the Rose Cottage in DeForest.
When the pandemic hit, their in-store gift shop sales went to zero, but their flower sales went up. People couldn't see each other in person, so they started sending flowers to each other instead. This is a perfect example of a silver lining within the community despite a horrible situation.
The city has made accommodations for restaurants to make room for parking and outdoor dining too. They've allocated room on the sidewalks for dining and set aside parking spaces for curbside pickup, which has been very helpful to restaurants.
Dane Buy Local was also able to administer 2,700 grants totaling $10.8 million to local businesses throughout Dane County. And while grants like these don't necessarily solve the larger problem these businesses are facing; they help businesses keep their doors open. If you look at things with a glass half full perspective, you'll find plenty of silver linings throughout our community.
If every person spent just $10 more per week at a local business, what would happen?
The effect would be huge for the community. Dane Buy Local works with 100's of businesses in the area, and they see first-hand how every small transaction matters.
For example, if a retail store averages 100 customers per week and each customer were to spend $10 more per week at that store, that's an extra $52,000 per year going back to the store. That's a huge deal to any small business - and could be the make-or-break point for many of them right now.
How can people actively support local moving forward?
Be intentional about supporting local. Instead of defaulting to the chain stores and restaurants, ask yourself if there's a local option instead. But watch out, some businesses will call themselves "local" even if they aren't.
On the Dane Buy Local website, there is a directory of over 600 businesses that are legitimately vetted local businesses. The owners live in Dane County and just like you are trying to make it through these tough times.
Together, we will stay strong and together we will continue to support the great local businesses of Madison. Here is a link to the Dane Buy Local vetted local business directory: https://danebuylocal.wildapricot.org/
Happy shopping and happy holidays!