Life Can Be Unexpected. These Seven Insurances Can Help.
These days, you can buy insurance for almost anything. (Like alien abduction insurance to cover damages you might face if a UFO swipes you from the Earth… While that may not sound very practical it is a real thing!) But with so many different types of insurance out there, it can be hard to understand what each different type of insurance covers and ultimately, what you need to cover yourself, your home and your family.

For example, what is the difference between "first person" and "third person" coverage? Unless you're an insurance agent, you probably have no idea. And that's okay – chances are, you haven't needed to know the difference between "first person" (insurance to cover yourself) and "third person" (insurance to cover other people) coverage in your life.

You don't need to be an expert in every available insurance policy, but having a general idea of the different types of insurances available can only make you a more informed consumer.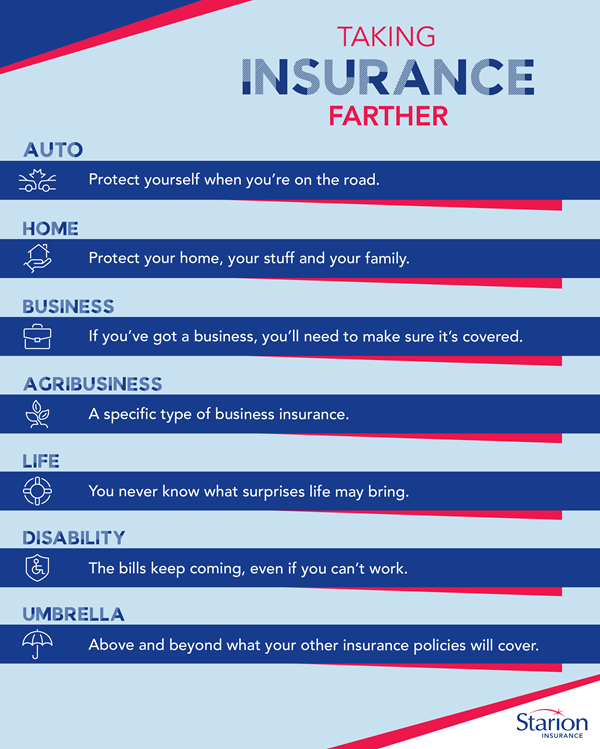 That's why today we're bringing you seven types of insurance you may need to purchase throughout your life and how they apply to you.
1. Auto Insurance
Insurance for your car – pretty straight forward, right? Not exactly!

The term "auto insurance" is used so frequently we may not actually know exactly what all goes into an auto insurance plan.

So, let's break it down.

There are three objectives to auto insurance. The first is liability. When you cause damage to another person, their vehicle, or their property using your vehicle, you are liable to cover that damage. But under liability insurance, the costs of those damages are covered. This type of coverage is referred to as third party coverage because your insurance is covering someone else.

The second objective of auto insurance is to protect you, your passengers, and your vehicle – or, the opposite of liability. This is also called first-party coverage because the policy is used to cover you.

Vehicles are heavy, dangerous and expensive. And because of this, just about every state in the nation requires us to purchase auto insurance (except for New Hampshire and Virginia) so the final purpose of auto insurance is to help you not break the law.
2. Homeowners Insurance
Homeowners insurance is the coverage you'll need to purchase if/when you purchase a home (and yes – condos and townhomes count too). This type of insurance covers losses and damages to your home, along with furnishings and other belongings within your home.

This policy would cover you should your home be affected by flood, fire, or some other natural disaster. Homeowners insurance also can help cover the cost of lost or stolen goods in the event of a robbery or theft of some sort.
3. Business Insurance
Business insurance protects businesses from losses due to events that can occur while you are conducting your business. If you run a storefront, business insurance can cover the cost of stolen goods in the event of a robbery. In addition to theft protection, there are quite a few other types of insurances for businesses. You can purchase coverage for property damage, employee-related risks, legal liability costs and more.

Business insurance will vary greatly depending on the type of business you run. For service providers or consultants, E&O (error and omissions) insurance can protect you in the event of a lawsuit from a client. You can also purchase certain business insurances to pay for medical expenses and lack of income should you become injured on the job.
4. Agribusiness Insurance
Agribusiness Insurance is specific type of business insurance intended specifically to protect businesses that earn all, or a majority, of their revenue from agriculture ventures. Those who typically take advantage of agribusiness insurance usually have highly technical pieces of equipment that if broken, damaged, or stolen, would likely be very expensive to replace or fix.
5. Life Insurance
When someone passes away, the cost of funeral services can be a hefty weight for the deceased's family members to cover. And if your family relies on your income and you pass away unexpectedly, your family can be left with bills, education costs, mortgages, and other expenses. Having a life insurance policy in place means that if you pass away, a chosen individual (called a beneficiary) will receive a set amount of money if you pass away to cover these costs.
6. Disability Insurance
People purchase disability insurance to ensure a steady stream of income to help cover bills and expenses should an injury or illness keep them from working. If your job is to drive a semi-truck but you break your leg, you won't be able to drive, potentially for months. Disability insurance will help cover that gap while you recover.
7. Umbrella Insurance
Umbrella insurance is a type of personal liability insurance that covers costs above and beyond what your other insurance policies will cover. For example, if you were to cause a car accident on the freeway that led to a 10 car pile-up, your auto insurance may not cover the costs to repair or replace all 10 damaged cars. An umbrella policy extends beyond the coverage of your auto insurance to make sure you're covered in more extreme scenarios.

Some umbrella insurance even covers certain liability claims other policies may not, such as libel, slander, and false imprisonment. And while most of us will hopefully never run into a situation where we need an umbrella policy – it's always best to be prepared.

Chances are, you don't need all of the insurance policies we listed above. But it's never a bad idea to have a working knowledge about the different insurance policies that are available out there.

Change is normal, and as you find new jobs, get a new car, purchase a new home, or simply grow into the next season of your life, your insurance policies and coverage will change too.

This stuff is hard — have any questions? Give a Starion Insurance Agent a call today! We're happy to help you navigate this confusing but important part of life. We might just be able to save you a few dollars and get you more and better coverage in the process.