This is how big projects get done - and big dreams come true.
---
Sure, you can add a room - or two or three - to your house. But a Home Equity Loan or Line of Credit can be used for so many other things. Cover college costs, replace big-ticket appliances, throw a fairy-tale wedding, or go on a globe-trotting adventure.
The bottom line: You can leverage your home's value to secure a low-cost, life-changing loan. Starion Bank's experienced lenders can help you figure out how much you can borrow and discuss all the advantages.
Home Equity Loan
Get all your loan money at once
Fixed interest rates keep your monthly payments stable
Loan limit determined by your home equity (market value of home minus your mortgage balance)
Make easy payments using Online or Mobile Banking
Interest payments may be deductible1 (Consult your tax advisor)
Good choice if you're taking on a major renovation project and can estimate how much it will cost
---
Home Equity Line of Credit2
Get access to a loan fund you can tap into time and time again
Variable interest rate
Pay interest only on the amount you've actually used
Reuse funds as you repay what you've borrowed
Easy access to money through checks, Online Banking and at Starion Bank branches
Good choice if you want to pay off higher interest loans or credit cards
---
Starion Flexline
Allows you to lock in a fixed rate on part of your line of credit
That portion of the loan has a fixed term and repayment schedule
You may lock down more than one portion of your credit line
As you repay the locked-down amount, the money becomes available for other uses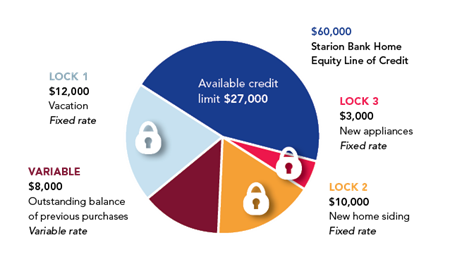 Starion Bank is a full-service financial institution with branches in North Dakota and Wisconsin.