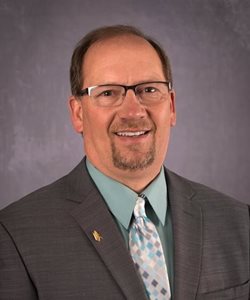 Market President
Oakes
601 Main Ave, Oakes
About John:
John joined Starion in 1996 and took over as Oakes market president in 2015. Since 1984, he has operated a corn and soybean farm and small livestock operation in the Oakes area. John's banking and farming experience have allowed him to help businesses and agriculture customers find proper financing, leasing, electronic banking and cash management services for their individual needs. He earned a Bachelor of Science in agricultural education from North Dakota State University. Additionally, he is a graduate of the North Dakota School of Banking, the inaugural class of Rural Leadership North Dakota and Starion Bank's Leadership Development Program.
John is active in a variety of clubs and organizations including the Oakes Lions Club, Oakes Area Community Foundation and Oakes Enhancement, Inc. He is also a member of the Knights of Columbus, Ludden Sportsman Club, Oakes Teammakers, Oakes Basketball Boosters and NDSU Team Makers Club. John served on the North Dakota Growers Association board and corn utilization council, and is active in St. Charles Borromeo Catholic Church.
Starion Bank is a full-service financial institution with branches in North Dakota and Wisconsin.