Remember the good ol' days? Back when your shopping selection was limited to Main Street stores and a couple of catalogs.
Fewer choices, fewer payment methods, and no internet searching. Occasionally, you might have traveled to another town for a little variety. Overall, though, you either bought a gift from a local shop, bought it through the mail, or you made it from scratch.
Things are just a bit different today. Almost any product from anywhere on Earth is available for purchase and can be shipped directly to your door (often within just a day or two!). Some might take longer or cost more, but the selection is orders of magnitude larger than just 20 or 30 years ago.
The number of payment options has exploded as well. Cash and checks are still options, but they're so passé. Debit cards, credit cards, and digital payments are the norm. How many products and services have you paid for with Zelle, Venmo, PayPal, or other such apps? There are so many!
We understand all these changes can be nerve-racking. The evolution of online shopping and payment methods has been lightning fast — it can be hard to keep up! But don't worry. We've outlined some tools and methods to help simplify and secure your holiday shopping, whether you're buying online or at the mall.
Zelle
Zelle makes it easy to send and receive money right through your Starion accounts. If you're splitting the cost of a gift, or reimbursing someone who picked something up for you, use Zelle for a nearly instant payment. In the time it takes to scribble down a reminder, you'll have that payment done and checked off your list.
When you use Zelle, the activities are recorded just like any other transaction on your Starion accounts. Even though the mobile payments are super quick, and digital, you still have a full list of your activities, so nothing is lost as you go back and track your holiday budgets and spending.

If you're looking for some ideas to get your shopping budget in order, we've got you covered.
Mobile Banking
If you're wandering through a department store or waiting in the checkout line, you can use the Starion app to transfer funds, find an ATM, or quickly check your balance. You can even load your Starion debit card into your phone's mobile wallet and use it to pay for purchases.
Starion mobile banking is safe, secure, and best of all, convenient. It never slows you down in the middle of the holiday rush.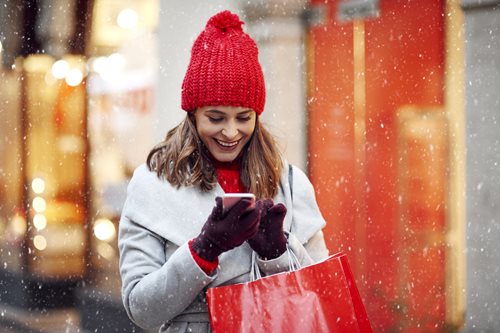 MoneyPass ATM's
Starion is part of the MoneyPass network, which means you have free access to more than 26,000 ATMs across the country! No matter where you're shopping, you can hop over to a MoneyPass ATM to check your balance and grab some quick cash. The best part – no fees!
MoneyPass is also partnered with Walmart. If there is a Walmart near you, there is almost certainly an ATM inside. For a full list and map of locations, visit their website.
Automatic Alerts
When you're caught up in the Black Friday frenzy, or surfing through deals on Cyber Monday, you might not be thinking about checking your balance as you go.
With Starion, you can set up automatic alerts to let you know when your accounts get down to a set dollar amount. Do a quick transfer to ensure you have plenty of money and avoid accidental overdraft fees, all without losing your shopping momentum.
Be Cautious with Shopping Apps
Nearly every large department store and online service has their own mobile app. Using them is generally safe, so long as you grab the official app from a reputable online marketplace such as Google Play, the Apple iTunes App Store, or the Amazon App Store.
But be cautious about storing your debit or credit card information in these shopping apps. Doing so is convenient, for sure, but it's also easier for hackers to access your information and steal your identity. It takes a little longer to tap in the credit card number for each purchase, but that small layer of protection could be the difference between an afternoon spent shopping and hours on the phone straightening out your credit report.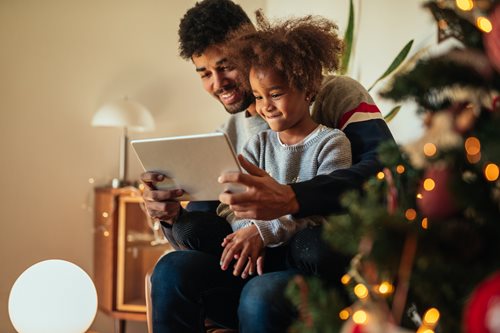 Beware of Public Wi-Fi
If you're using public Wi-Fi in a store or doing some online shopping at the coffee shop, you might be putting yourself at risk. Even a mid-level hacker can intercept the information your phone sends and receives while on the internet.
One option to lessen this risk is to use a Virtual Private Network (VPN). What a VPN effectively does is protect your traffic from intruders. The information you send and receive is in a virtual tunnel, safely protected from intruders and thieves. This does take an extra step or two, but it's a good safeguard against losing your data while still enjoying a latte on the go.
Check Your List Twice
Throughout the holiday season, and even after it's over, go over your statements and check for any fraudulent charges. This includes credit cards, debit cards, and online payment vendors.
If someone has nabbed your information and used it for an illegal shopping spree, this will help you catch the activity quickly. Immediately contact law enforcement and your bank or other financial vendor if you notice fraudulent activity of any kind.
Past and Present(s)
Technology advancements like digital payments and online shopping are here to stay. But the season can still be safe and simple and filled with nostalgia. With the right apps and a few basic safety measures, you can take advantage of technology and still experience the same joy and wonder of holiday shopping you remember from days gone by.