Does researching online products get you excited? Do you love nothing more than perusing local Main Street shops, and lining up early for those exciting Black Friday deals?

Or do you, like so many of us, nervously glance at your checkbook around this time of year and immediately break into a cold sweat?
Nothing snuffs out the shopping spirit like a bank account running into the red. (Especially when you've only scratched off half the names on your list!) But holiday shopping doesn't need to be so stressful. With these ten quick tips, you'll not only get through this year, but also set yourself up for happier and more worry-free gift-giving holiday seasons in the future.
Save All Year
One of the easiest ways to ensure a well-padded stash is to supplement it throughout the year.
Create a separate holiday savings account, and then set up automatic monthly transfers from your checking into that account. When October and November roll around, you'll already have money set aside. It's a stress relieving head start that takes almost no effort.
Limiting Expenses
If you don't have a holiday savings account yet, you can still set a budget and stick to it.
Look at your average monthly spending for the last quarter of the year and see where you can cut back a bit. Shaving off a few discretionary expenses may just free up enough money to cover the last few items on your gift list.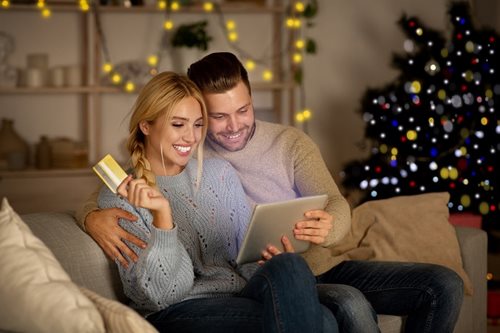 Organization is Key
Make a full list of everything you intend to buy, or at least everyone you intend to buy for. All it takes is a simple chart with the names, gifts and approximate prices. Then simply add up the gifts and see whether the total fits within your budget. Doing this at the beginning of the season can help you plan your shopping ahead of time, making early adjustments as needed.
Slower Shipping
When shopping online, always factor in shipping costs. Shipping costs can range from reasonable or sky-high, depending on how quickly you need the items delivered. This is where early shopping really works in your favor. Starting early ensures you can choose the cheapest (i.e., slowest) shipping option.
If you wait too long to purchase, shipping may not be the only catch. Latecomers are often faced with fewer choices, and thus find themselves forced into paying higher prices for both the gift and shipping.
Get Crafty
Handmade gifts aren't just less expensive, they are also typically more meaningful than store bought ones. If baking or cooking is your thing, give a tray of Christmas goodies or some home-smoked barbeque. Heartfelt homemade arts and crafts are always popular, too.
You can also give the gift of time. Volunteer a few weekends to help a friend with a big project. Or donate your time to one of their favorite charities. Don't be afraid to get creative!
Due Diligence
Comparison shopping and price matching guarantees can help create some breathing room in your budget. Take advantage of relevant Cyber Monday and Black Friday specials. Don't shy away from coupons or discounted gift cards, either.
Pro tip: Avoid getting bogged down by impulse buys. Don't get reeled in by heavily discounted products unless they already match items on your list.
Get a Gig
If you're in a crunch this year, consider snagging a short-term side gig to bring in some cash. Plenty of stores hire temporary help to get them through the busiest time of the year. Combine this with monthly deposits into your holiday bank account and your shopping seasons will be a breeze.
Watch out for Those Extras
Artsy tags, fancy wrapping paper, shiny ribbons – they add up. Buying in-season also costs more. Stock up on these extras right after the holiday season when they're on sale. This trick won't help you this year but can save you a bundle in years to come.
Give it a Day, or Two
Implement this psychological trick to help you curb your impulse buys, especially on the big-ticket items: When you stumble upon a tantalizing gift idea with a large price tag, walk away for at least 24 hours (48 is even better). If you're still thinking about it after your waiting period, make sure it fits in your budget and move forward.
Never impulse buy something you aren't sure you can afford. You'll almost always regret it later. This works better when you're not crunched for time - which is yet another great reason to start your holiday shopping early this year!
Go Halfsies
One way to save on holiday shopping is to only pay for part of a gift. When you split the check between two or more people, you can still get something nice for the people you care about without breaking the bank. Small gift exchanges - like White Elephant or Secret Santas - are another way to lower expenses while still having fun.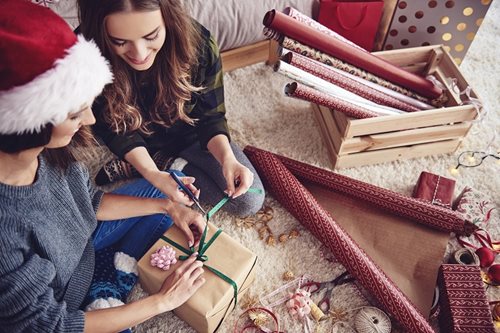 Keep it Cool
Following these tips can help you get organizes, start earlier and stay on budget. Which leaves you more time to relax and celebrate, and most importantly, make more holiday memories.
If you're ready to get started with a new savings account for the holidays, visit with a Starion personal banker today.